This is my first time participating in What's Next?, and I have to say that I'm so excited! I couldn't have found this at a better time–I just finished reading my surplus of books for the New Year. The ones I didn't finish perished in a flood. Now I'm at a standstill, wondering where to begin.
1.
"You belong to me," she says. "And I paid a pretty sum for you, too." She opens to a page in her book and points to the notation for 10,000 rupees.

"You will take men to your room," she says. "And do whatever they ask of you. You will work here like the other girls, until your debt is paid off."
Sold by Patricia McCormick has been at the top of my TBR list for some time now. I even checked it out of the library when I was in Phoenix. I just couldn't bring myself to read it. Lakshmi, the protagonist, has been sold into sex slavery by her stepfather. She is bought by Mumtaz, owner of the "Happiness House." The book is a realistic and heartbreaking look into sex trafficking. It's compelling and strong, but I just don't know if I can handle the ugly truth.
2.
I have heard so many awesome things about When I Was the Greatest by Jason Reynolds. One of the most compelling arguments to read it has always been the book cover. I mean, look at it.
A lot of the stuff that gives my neighborhood a bad name, I don't really mess with. The guns and drugs and all that, not really my thing.
Ali has never really wanted to be involved in any of the violence that can be found in his Brooklyn neighborhood; however, through unfortunate timing and placement, he finds himself exactly there. One mistake, and Ali finds himself spinning out of control. Told in an incredibly strong voice and wildly authentic, this book is going to be read soon. It's just a matter of when.
3.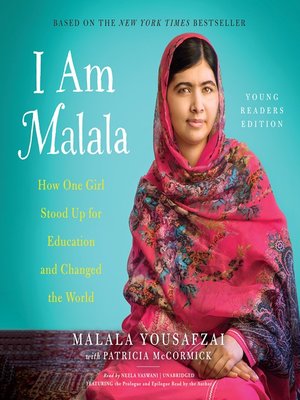 "Once I had asked God for one or two extra inches in height, but instead he made me as tall as the sky, so high that I could not measure myself."
I Am Malala is an autobiography written with the help of Patricia McCormick (yes, Patricia makes the list again). Malala Yousafzai faced immeasurable challenges on her mission to stand up for the education of all children. Her unflinching bravery in the face of violence and threats made her the youngest recipient of The Nobel Peace Prize. This book is about her fight for equal education despite oppression and violence from the Taliban.
4.
1. Write your mistake
2. Ingest one mushroom
3. Go to sleep
4. Wake anew
I must admit, I'm not the hugest fan of graphic novels. I am trying to stretch myself, and that means reading outside of my comfort zone. I heard about Seconds in my Special Methods class. One of my classmates LOVED it. Since then, I've been tossing the idea of reading it around.
Katie, a once successful chef, has hit a wall of problems. She gets a second chance in the form of magical mushrooms (yes, magical mushrooms). With the ability to rewrite her mistakes, Katie runs the risk of going too far. This humorous book might have me dipping my toes into the world of graphic novels.
5.
Red is a magical color. Powerful. When you were born, I knew that you were Red. I knew you had powerful magic in you.
Just recently I finished Rump by Liesl Shurtliff and I absolutely LOVED it.  Red is an accompaniment. In the recently released book, Red makes an appearance as the protagonist this time. In this modern twist of Little Red Riding Hood, Gran gets sick. Red has learned from experience that magic can be very dangerous, but it's the only way to help Gran. She must face her fear in this spell-binding fractured fairy tale.
So these are my 5 choices. Internet friends, please vote and comment. What should I read next?